The Awkward Alarm
A rather annoying little noisemaker.
Assembly suggestions
When populating the board, it will be easiest to populate in the following order (don't forget the components on the bottom!):

MMDT3946
Resistors
Capacitors except tantalums and those outlined in red in the images to the right; see note below
MOSFET
Diode
Microcontroller
H-bridge
Tantalum capacitors
Potentiometer
Power leads
Reset switch
Inductors
Speaker leads



Be sure to skip installing the capacitors highlighted in red until after you have programmed the microcontroller. Leaving the 470pF capacitor disconnected ensures that the MOSFET does not turn on spuriously, and the bypass capacitors on the reset line interfere with the programmer's communicating with the device.


The board's silkscreen indicates an 82uH inductor; this value is incorrect, and should be 33uH.


The programming leads should be connected to the SiLabs USB Debug Adapter as follows:

C2CK/RST (the pin next to "PRG" on the silkscreen) goes to pin 7
C2D/P2.7 (the pin next to the "=" on the silkscreen) goes to pin 4
GND (board ground) goes to pin 9
the debug adapter can provide VDD from pin 10, or you can just connect your own power supply to the board
Design Files
The design tarball includes all design files, including code, board and schematic (in Eagle format), gerbers, makefiles, et cetera. As should be clear from the Makefile, building the code requires SDCC. It should also be possible to use the SiLabs IDE as long as you use SDCC with it, though I haven't tested compilation in the IDE.
I have used both ec2drv and the SiLabs IDE to program the microcontroller on the board; both should work without an issue. See above for information on connecting the board to the debug adapter. You should also be able to program using the much cheaper SiLabs ToolStick, though I haven't tried it.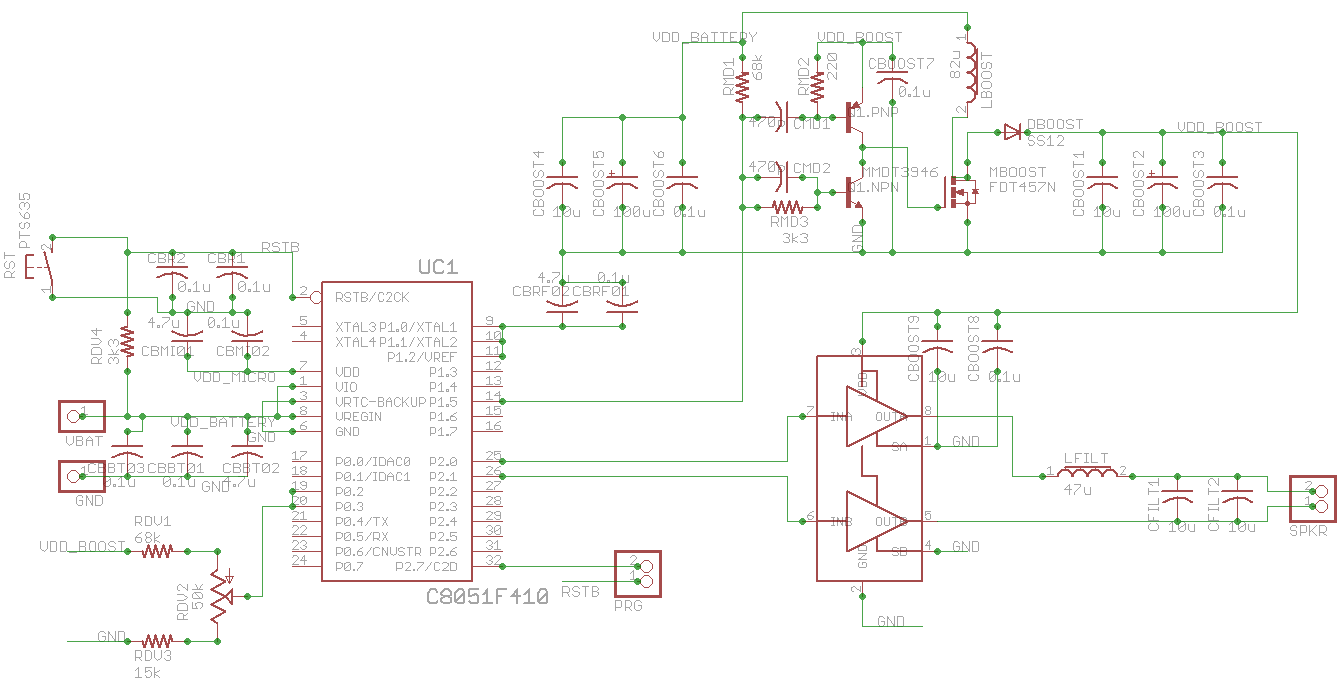 BOM
Note: Any appropriate panel mount potentiometer or momentary switch can be substituted for the corresponding components below. The speakers listed below are only a suggestion; this circuit can drive most 4 or 8Ω speakers, but be sure the speaker's power rating is sufficient.
Questions? Comments? <rsw@jfet.org>
Copyright © 2009 by Riad S. Wahby. This material may be distributed only subject to the terms and conditions set forth in the Open Publication License, v1.0 or later (the latest version is presently available at http://www.opencontent.org/openpub/).
$Id: index.html 493 2009-10-27 18:56:04Z rsw $