1988 BMW M6 (E24)
1988-2004
R.I.P.
After a disastrous steering failure on a winding road (fortunately late at night and thus involving no one else), my car waited around in the body shop for four months before a complete failure to find parts was the deciding factor in a declaration of structural total loss. My beautiful car is no more.
Rest in peace, honey.
---
The sexiest car on earth.
My work on this car is ongoing. At this point, I've done the following: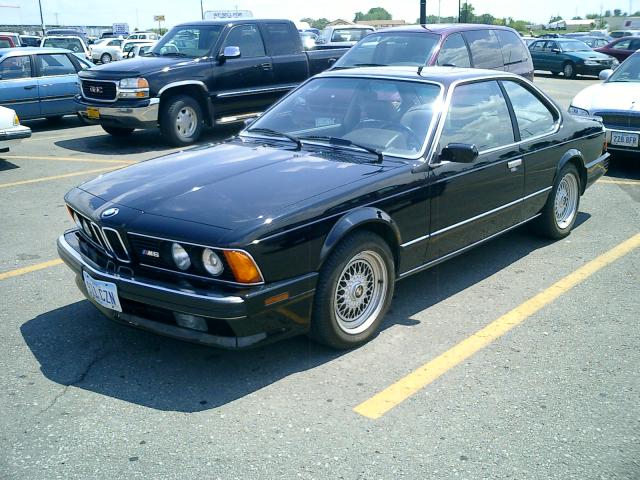 Things I'm planning on doing: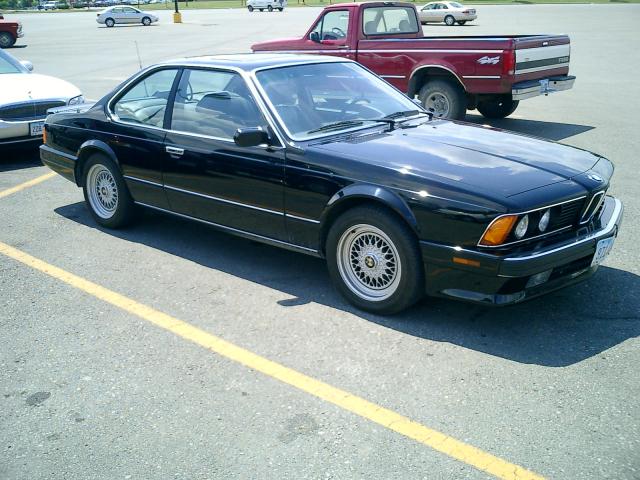 Brake upgrades. Based on the collected wisdom of many people with more experience than me, I've decided that the right way to go is E32 rotors in the front with the stock M6 calipers, E34 rotors, calipers, carriers, and pads in the back, steel/teflon brake lines, and an E32 master cylinder. I'll put some more detailed info up as the install happens.
An exhaust cam gear from Frank Fahey Motorsports. Dinan and others retard the exhaust cam timing, while Fahey advances it. According to Rene from FFM, this gives more torque at the low end without killing high end power, and does quite a bit better in "real world" driving situations than retarding the timing.
A track pipe, also from Frank Fahey. This replaces the catalytic converter (no, I would never run on the street without a cat, honest!) with straight pipes that fit the otherwise freely-flowing stock system and have a replacement oxygen sensor plug. This will make the car slightly louder, but it should also improve performance tremendously.
A strut tower brace from Bavarian Autosport. Increases the stiffness of the front suspension in turns. Gustave Stroes has an excellent discussion of the physics of strut tower braces.
Some other minor hacks, like a central locking switch and whatever else I think of.
This guy is a bit braver than I am. Plus, at 44k, I don't need a timing chain quite yet...
Questions? Comments? <rsw@jfet.org>